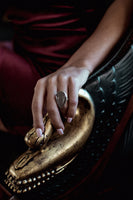 Handcrafted Jewelry
Each piece of our fine art jewelry is carefully and passionately designed and crafted by hand on a small scale, using precious and semi-precious metals and stones.
Jewelry is an ancient form of self-expression and tradition, and the process of making it has been a true art in the history of mankind. We are keeping that art alive and know anyone who appreciates the process and art form as much as we do will love to be part of our small community.
Thank you!
Meet the Maker
Permanent Jewelry
Select, Fit, Enjoy!
Select a fine chain from our beautiful collection, get a perfect custom fit specifically for you, watch as we *zap* it on with our mini-welder (no bulky clasp necessary) for a gorgeous piece of every day jewelry!
This is such a fun experience, and even more fun with a partner or friends! Get a matching bracelet with someone you love, or make a fun night of it and book an event right at home. Details in our "Permanent Jewelry Collection."
Photography Sessions
Want to book a photoshoot?
Aside from silversmithing, I am also a local photographer. In fact, this was my first love. As the jewelry creations started to take off the two started to split ways. To combine both passions into one space is the overall goal, so here you're able to look at the type of sessions available and the prices for each package.
Find me on Instagram to get a feel for the style of photos I offer and send a message to book your session: @jaimeasaro
Packages & Pricing